MITCH FEINGOLD PRESENTS
SAN DIEGO - SUNDAY, June 22nd @ 7:30 PM
(doors open @ 7:00)
SONGWRITERS ACOUSTIC NIGHTS




OH WHAT A SHOW WE HAVE!
Joining us after just touring with The Lovebirds is VERONICA MAY as a solo. Also joining us are Sherri-Anne and Lisa Viegas from SISTER SPEAK. Rounding out the show are AMBER TOPE from L.A. and a favorite at Songwriters Acoustic Nights, RUSTY JONES. Join us as they share the stage in a writers round format to perform their original songs.

Now in our 6th year, SONGWRITERS ACOUSTIC NIGHTS always features ORIGINAL acoustic music from some of Southern California's most talented singer songwriters.
Presented in a writers round, this is a creative and exciting showcase. This opportunity to hear ORIGINAL acoustic music at Swedenborg Hall, a venue with excellent acoustics, should not be missed. MUSIC IS GOOD FOR THE SOUL!

San Diego has a lot of great music shows. We hope you choose us - you won't be disappointed!
Oh, and tell your friends - they'll be glad you did.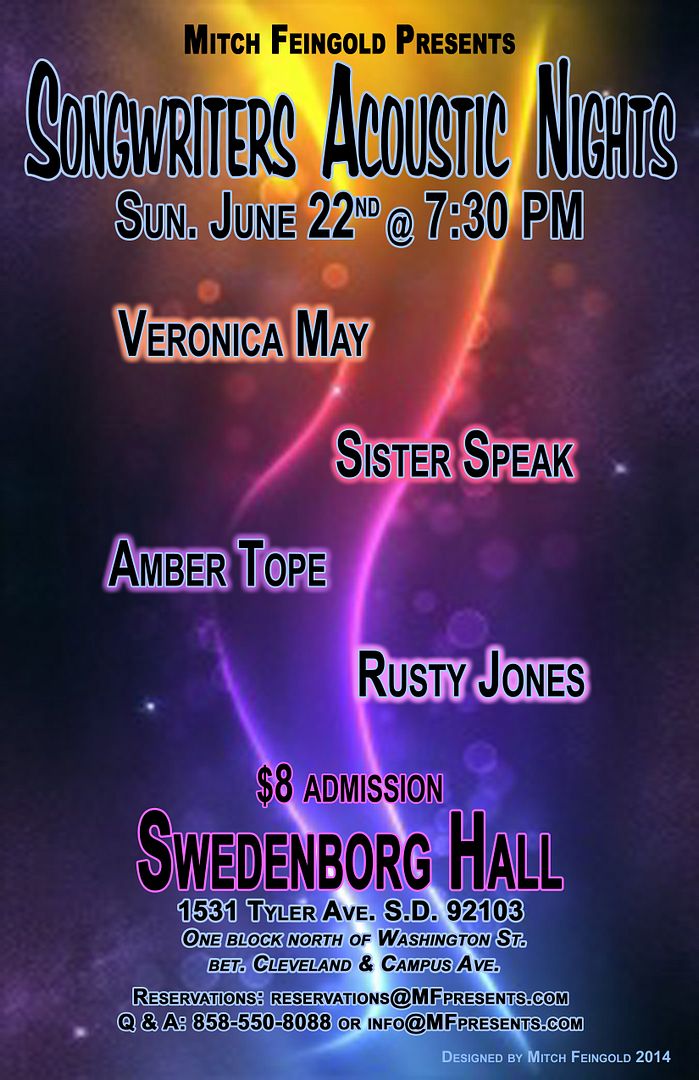 FOR DIRECTIONS
CLICK HERE
Show starts at 7:30PM (Doors open at 7:00.)
$8.00 General Admission
This is a fundraiser for Swedenborg Hall & the singer songwriters.
Support LIVE music - remember, it's good for the soul!

Theatre style open seating.

ALL AGES

FOR RESERVATIONS: 858-550-8088 or
RESERVATIONS@MFPresents.com
Reservations until 7:00 the evening of the show.
SUBSCRIBE TO OUR E-MAIL UPDATES

QUESTIONS? info@MFPresents.com

Become a Facebook friend at Facebook/MitchFeingold





Serving San Diego & Southern California





© 1998-2014, Mitch Feingold Presents, All rights Reserved.
Phone: 858.550.8088 ~ Toll Free: 800.4.SHOWTIME ~ Fax: 858.550.8087 ~ Email: info@MFPresents.com

Web Site Design and Development by MTG Marketing, San Diego, California, USA